Peakflo + NetSuite:

Pay & Get Paid Seamlessly
Invite any stakeholders from your company with our role-based access controls. Sync your charts of accounts, status of invoices, and customizations adapted to your company's size and needs.
💸Cut bill pay time by 50%
⌛Get paid 2x faster
📝 Eliminate double entry
💳 Pay international or domestic vendors

Try Peakflo + NetSuite for free​


Schedule a meeting

Finance Operations Made Easy with Peakflo + NetSuite
Pay bills
Get paid
Pay bills
Get paid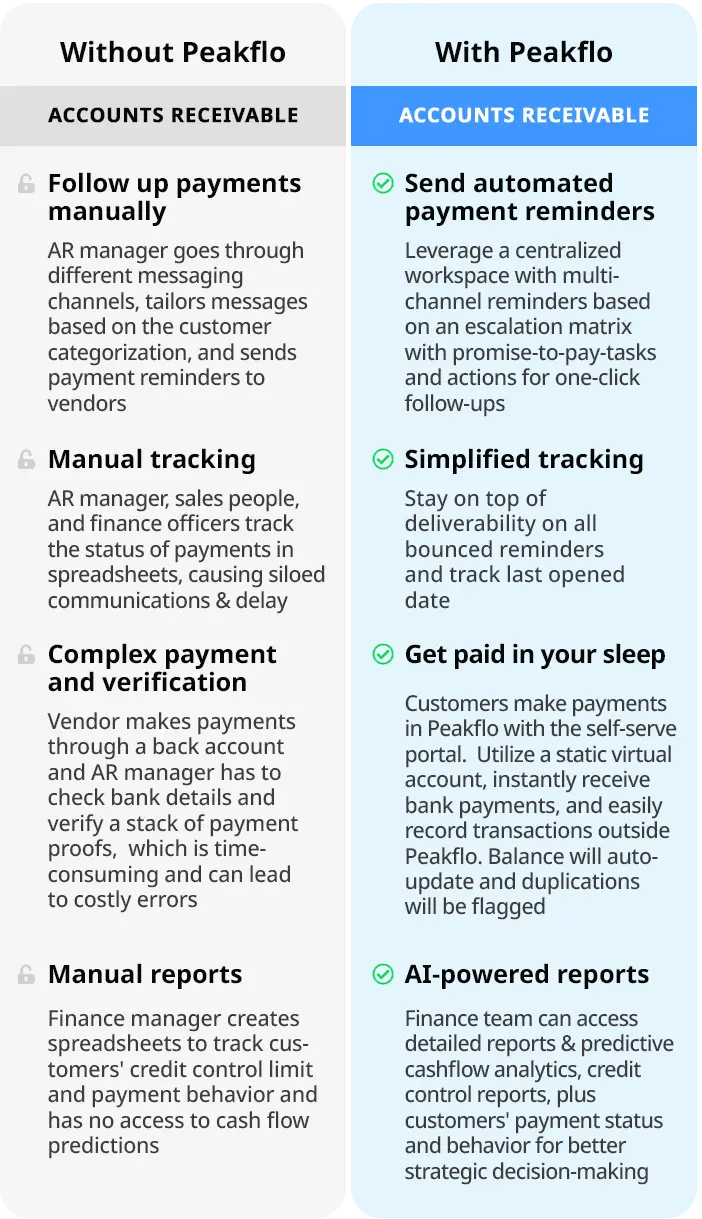 Without Peakflo
ACCOUNTS PAYABLE
AR manager has to reconcile each bank transaction with the account transaction, which can take up to a week or a full month.
Accountant has to make card or online banking payments outside of NetSuite. This can prolong payment and reimbursement time.
Employees and the finance team enter purchase order, bill, and reimbursement details into NetSuite, which is time-consuming and often error-prone.
Manual PO to bill matching
Accountant manually matches POs to bills which leads to delayed and error-prone reports due to financial oversights.
Siloed vendor communications
The finance or procurement team
needs to collect personal information and payment preferences from vendors. Whenever there's
a PO or payment status update, you'll need
to reach out to them again,
complicating communications.​
Auditors have a hard time tracking communications and actions associated with any POs, bills, or payments and need to scramble through documentations to compile audit files.
Accountant struggles to set up approval workflows due to the complex configurations. Managing approvals is a challenge due to fragmented communications.
ACCOUNTS RECEIVABLE
Follow up payments manually
AR manager goes through different messaging channels, tailors messages based on the customer categorization, and sends payment reminders to vendors
AR manager, sales people, and finance officers track the status of payments in spreadsheets, causing siloed communications & delay
Complex payment and verification
Vendor makes payments through a back account
and AR manager has to check bank details and verify a stack of payment proofs, which is time-consuming and can lead to costly errors
AR manager has to reconcile each payment one by one and handle disputes manually, which can impede productivity
Finance manager creates spreadsheets to track customers' credit control limit and payment behavior and has no access to cash flow predictions
With Peakflo
ACCOUNTS PAYABLE
Automatically sync transactions into the general ledger and save up to 100 man-hours a month for a timely month-end or year-end closing.
Accountant can utilize a multi-currency wallet to pay vendors in bulk or schedule payments and reimbursements right on the due date.
Peakflo scans POs, bills, and reimbursements using Optical Character Recognition (OCR) for automated data entry. Create rules to autofill certain fields for faster PO and bill processing.
Automated PO to bill matching
Accountant can automatically match POs with vendor bills and track open/closed purchase order balance for more accurate reporting.
Seamless vendor communications
Vendors with permissions can access the Peakflo dashboard to view and edit their personal information and check the status of their bill payments. The finance team can share PO and payment receipts via WhatsApp for Business to vendors.
Auditors can simply track action log reports and audit trails that capture a full timeline of communications, actions, and PO, bill, and payment history.
Accountant can set multi-level approval workflows and send multi-channel reminders so approvers can approve right from mobile! Mention any co-workers right away to solve issues quickly.
ACCOUNTS RECEIVABLE
Send automated payment reminders
Leverage a centralized workspace with multi-channel reminders based on an escalation matrix with promise-to-pay-tasks and actions for one-click follow-ups
Stay on top of deliverability on all bounced reminders and track last opened date
Customers make payments in Peakflo with the self-serve portal. Utilize a static virtual account, instantly receive bank payments, and easily record transactions outside Peakflo. Balance will auto-update and duplications will be flagged
Finance teams can save 100 man-hours by utilizing static and dynamic virtual accounts that help with instant reconciliation
Finance team can access detailed reports and predictive cashflow analytics, credit control reports, plus customers' payment status and behavior for better strategic decision-making
Integrate NetSuite with Peakflo in 4 Steps
See how you can connect and sync your NetSuite ERP account with Peakflo in a minute.

Connect now


What Our Customers Say
"Peakflo seamlessly integrated into our existing NetSuite ERP and improved our finance team productivity significantly. We have sent over 100,000 workflow guided payments and now collect our accounts receivable 10-15 days (-20%) higher than average."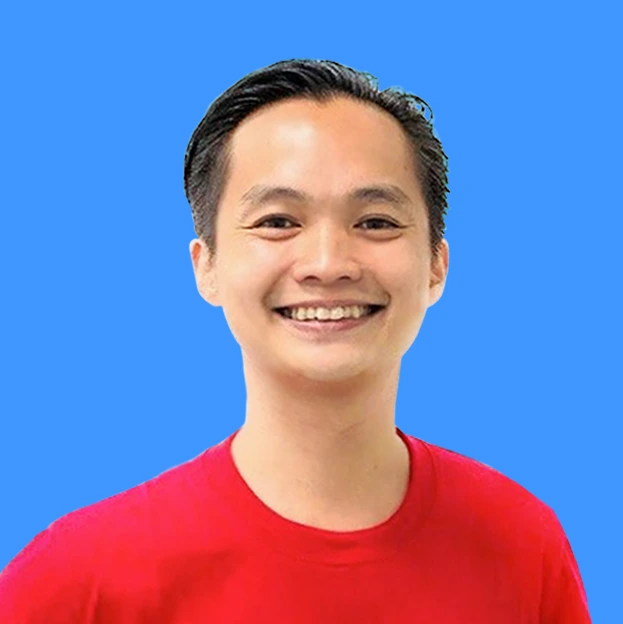 Ritchie Wong
Group CFO, Ninja Van
workflow-guided reminders
days reduction in DSO
man-hours saved each month

Read customer story

"Peakflo seamlessly integrated into our existing NetSuite ERP and improved our finance team productivity significantly. We have sent over 100,000 workflow guided payments and now collect our accounts receivable 10-15 days (-20%) higher than average."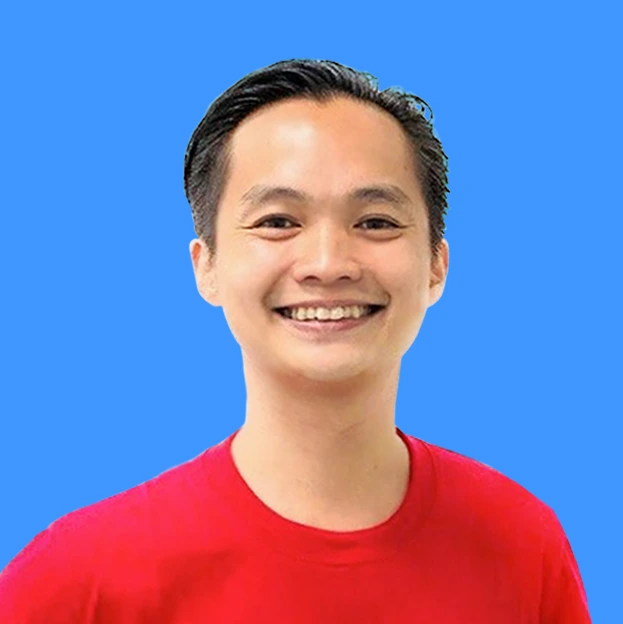 Ritchie Wong
Group CFO, Ninja Van
workflow-guided reminders

Read customer story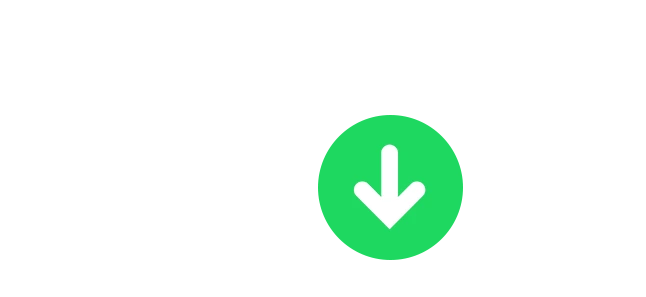 days reduction in DSO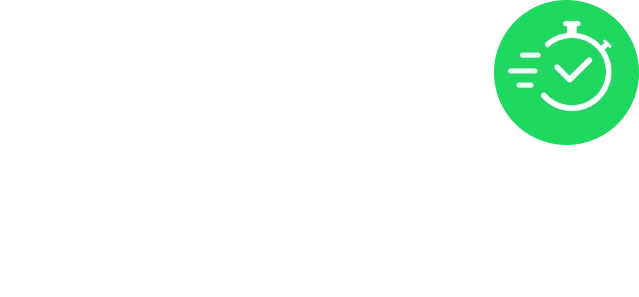 man-hours saved each month
Achieve Peak Cash Flows with Peakflo
Ready to cut bill pay time by half & get paid 2x faster?

Let's start now