What is a procure-to-pay process?
The procure-to-pay (P2P) process, also recognized as the purchase-to-pay process, is a series of steps that procurement teams follow to acquire goods or services from external suppliers. It encompasses the entire cycle from the initial procurement activities to the final payment for the goods or services.
As a vital business process, P2P aims to enhance the efficiency of procurement activities, exert control over costs, and establish effective vendor management practices.
10-Step Guide to Procure-to-Pay
The key stages of the procure-to-pay process typically include: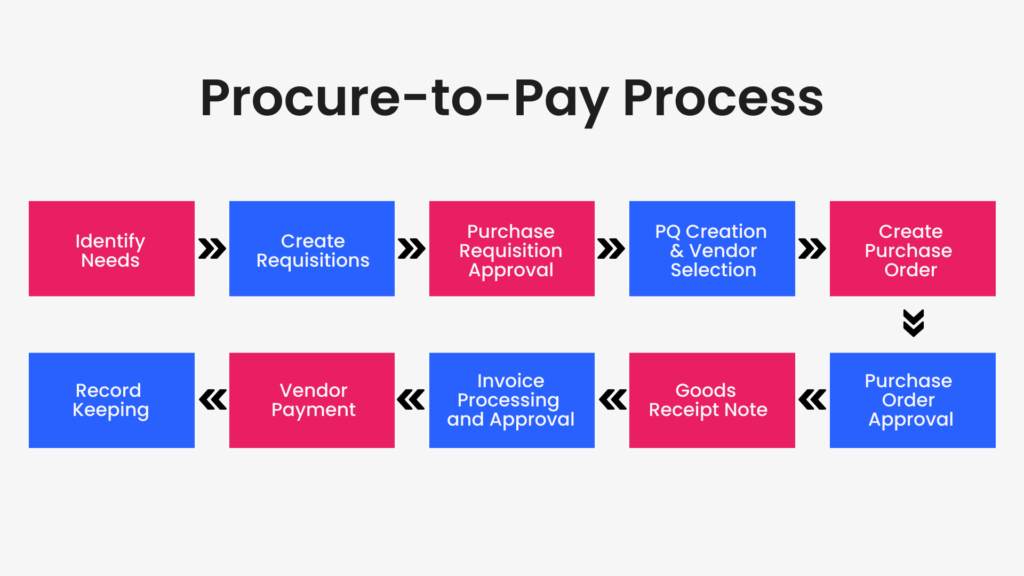 Step 1: Identify Needs
Begin by assessing the organization's requirements for goods or services by collaborating with different departments. Develop a clear understanding of what needs to be procured and the quantity required.
Step 2: Create Requisitions
Purchase requisitions are then created by a department or individual in an organization to formalize the identified needs. Details such as quantity, specifications, and any specific vendor preferences are included in the document.
Step 3: Purchase Requisition Approval
Purchase requisitions are then examined by department heads or procurement teams, who evaluate the necessity, budget availability, and validity of the requisition form. Concerned stakeholders either approve or reject a purchase requisition based on their evaluation. In instances where a requisition is incomplete, it is sent back to the initiator for necessary corrections and resubmission.
Step 4: Purchase Quote Creation and Vendor Selection

After PR is approved, organizations may request quotes from potential vendors to compare prices and terms. This involves creating a purchase quote that includes details such as the proposed cost, delivery time, and any other relevant terms. The purchase quote is then submitted for approval.
Potential vendors are then evaluated based on factors such as competitiveness, alignment with budget constraints, and overall requirements. Choosing a vendor that aligns with the organization's procurement objectives is a very crucial step.
Step 5: Create Purchase Order
Once a vendor is selected who meets all the requirements of the purchasing criteria, a purchase order is issued against the purchase requisition. Specifying the detailed terms and conditions such as delivery dates, payment terms, and the total payable amount are the must-have fields in the document.
Step 6: Purchase Order Approval
Purchase orders then undergo an approval process within the organization first to confirm their legitimacy and accuracy. Once approved, they are sent to vendors. Vendors, upon reviewing the purchase order, can either approve it, reject it, or initiate negotiations. When a vendor approves a purchase order, it triggers a legally binding contract.
Step 7: Goods Receipt Note
Upon receiving the goods or services, the buyer verifies that the delivery aligns with the details mentioned in the purchase order. If all the specifications align the goods receipt note is approved by the buyer.
Step 8: Invoice Processing and Approval
After the delivery is made, the supplier sends an invoice against the purchase order. The accounts payable team then validates the invoices against the purchase order and goods receipt by performing a 3-way match. If there are no discrepancies, the invoice gets approved and payment gets disbursed. If there are errors, the invoice is sent back to the vendor with an explanation for why it was rejected.
Step 9: Vendor Payment
Once the invoice is approved, the accounts payable team processes the payment to the supplier adhering to the agreed-upon payment details. The payment made to the vendor could be categorized into advance, partial, installment, final, or holdback payments.
Step 10: Record Keeping
Maintain meticulous records of all procurement-related documents, including purchase requisitions, purchase orders, goods receipts, invoices, and payment records. Organize and store these documents for auditing and financial purposes.
Best Practices for an Efficient Procure-to-Pay Process
Clear Procurement Policies: Establish and communicate clear procurement policies for consistency and compliance.
Vendor Relationship Management: Cultivate strong vendor relationships for effective communication and collaboration.
Automation and Technology: Implement procurement software and automation tools to streamline processes and enhance visibility.
Centralized Procurement: Centralize procurement for better negotiation and a standardized approach.
Continuous Improvement: Regularly review and optimize the procure-to-pay process for efficiency gains and cost savings.
Enhancing Purchasing Efficiency with Procure-to-Pay Software
In the evolving landscape of organizational management, the adoption of cloud-based procurement tools is becoming a prevalent strategy for procurement teams. Gartner predicts that over 85% of organizations will embrace a cloud-first principle by 2025. Cloud-based solutions such as Peakflo's Procure-to-Pay offer a range of benefits and cost-saving opportunities.
Let's delve into how procure-to-pay solutions can significantly enhance efficiency in purchasing for the procurement teams.
Streamline Purchase Requisition and Approvals
Digital procure-to-pay solution revolutionizes the purchase requisition process by seamlessly routing requests to stakeholders and approvers in the correct sequence. This eliminates the need for cumbersome email threads, ensuring a more organized and efficient approval workflow.
Efficient Purchase Order Management
Most procure-to-pay solutions automate the creation of purchase orders from approved requisitions. These tools facilitate various tasks, from sending multiple batch orders to a single vendor to creating multiple purchase orders from a single requisition. This level of automation simplifies the PO dispatch process, saving time and reducing the likelihood of errors.
Digitize Vendor Management
Incorporating a vendor portal will allow your vendors to view the details of the purchase order and create invoices against them instantly through the portal. Additionally, enables them to add their electronic signature directly to the invoices. This enhances efficiency and ensures a streamlined secure invoicing experience for both parties.
Streamline Invoice Matching
Procure-to-pay solutions enable accounts payable teams to perform three-way matching seamlessly. This ensures the integrity of purchases, expedites invoice approvals, flags any mismatches, and automatically syncs the data to ERPs and accounting solutions.
Insights into Procurement
Procure-to-Pay solution provides complete transparency into the end-to-end process. With budget management and AP reports users can instantly access the status of any task, analyze budgets, generate custom reports and analytics, and stay on top of process health.
The integration of procure-to-pay solutions into organizational workflows presents a compelling case for enhancing purchasing efficiency. As cloud-based solutions become the norm, leveraging tools like Peakflo Procure-to-Pay not only streamlines processes but also empowers procurement teams with actionable insights for future improvements. Embrace the future of procurement with efficiency-driving technology.