You've established clear payment terms, closed the deal, and sent the invoice on time, but the customer missed the due date – if you are a small to medium-sized business owner, you've likely encountered this situation.
Dealing with overdue payments is often one of the most challenging tasks that SMBs must address. One way to reduce late payments from clients is by consistently sending payment reminders by utilizing payment reminder templates.
In this blog, we'll delve into everything you need to know about improving cash flow and collections management, specifically focusing on payment reminders. We'll discuss how to create effective payment reminder templates and the importance of late payment penalties.
Best Practices for Payment Reminders
Staying on top of timely payments is crucial, and maintaining open communication is key. Consider implementing a well-organized series of friendly yet firm reminders for overdue invoices. By sending these reminders, you not only encourage prompt payments but also keep the lines of communication open, ensuring you remain on your customer's radar.
Companies generally send out an initial invoice payment reminder one week before the due date. Subsequent reminders are sent after the client fails to meet the set deadline.
Ensure you follow these best practices for crafting effective payment reminder templates:
Segment the Customers
Effective payment reminders depend on the understanding of your customer base. By categorizing customers based on factors such as company size, industry, and payment behaviors, you can tailor messaging and reminder workflows to align with the unique needs and preferences of each segment. This approach ensures that reminders are not only timely but also resonate with the specific customer group, fostering a more personalized and effective communication strategy.
Keep the Messaging Short and Sweet
Businesses frequently dispatch payment reminder templates a week before the payment due date. Following reminders are sent after the client fails to meet the deadline. These templates for overdue payments can vary significantly, but a golden rule is to maintain simplicity and clarity. Messages that are too complex or wordy may lead to confusion, or worse, be ignored.
Use the Right Tone
The tone of your payment reminder should align with the gravity of the situation. For an initial reminder, a friendly and polite tone is typically sufficient. However, if the overdue payments persist, a more serious, but still professional tone for your collections management communication might be necessary.
Ask for Confirmation
A key best practice when sending out payment reminders is to always request a response or confirmation. This practice ensures that the client has received and understood the payment follow-up, and it also prompts them to take immediate action.
Put an Extra Focus on Call to Action
The call to action in your collection communication or payment reminder should be clear and emphasized. This is what you want the recipient to do – settle the overdue invoice.
Be sure to specify the amount due, the payment method, and any late payment penalties. Leverage payment automation, if possible, to facilitate a quick and easy resolution for the customer.
How to Write Late Payment Reminders
Crafting the right payment reminder email is a more advantageous approach than immediately onboarding a collection agency. It preserves positive customer relationships.
Now that we've discussed the importance of payment reminders and best practices for crafting them, let's dive into the specifics of creating persuasive and professional reminders. Utilizing payment reminder templates can be invaluable, providing a tone that encourages timely payment without jeopardizing customer relationships.
Pre-Due Date Payment Reminder Template
For many clients, a gentle payment follow-up might be all it takes. After all, your invoice could easily get lost among the multitude of tasks your client is managing.
In such cases, it's essential to maintain effective customer communication by sending a payment reminder email with a friendly tone. This approach gives the impression that you're simply providing a courteous reminder of their overdue payments, ensuring they stay aware of their upcoming obligations. Generally, they are sent 14-7 days before the payment due date.
Here's a payment reminder template example to give you an idea:
Due Date Payment Reminder Template
Sending a timely payment reminder when an invoice is due plays a crucial role in maintaining healthy cash flow, positive client relationships, and effective collections management.
Here's an example of the payment reminder template: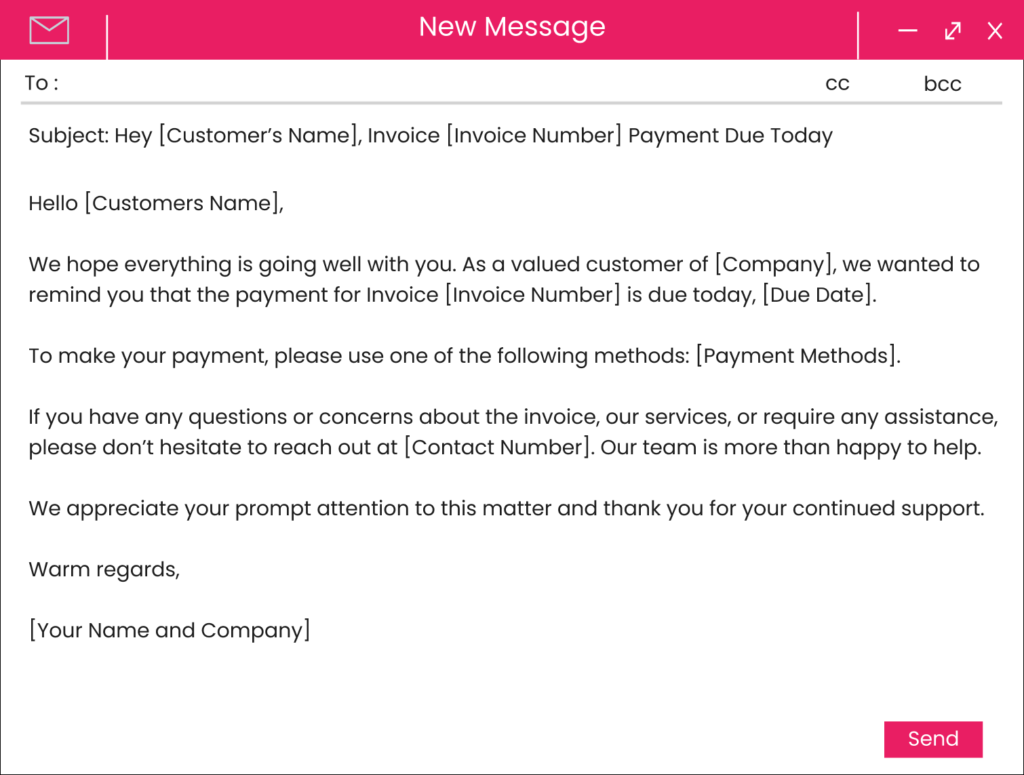 First Overdue Payment Reminder Template
When an invoice becomes seven days overdue, a well-crafted payment reminder email template can be used to follow up with the client. This not only reminds them of the amount due and the due date but also provides a clear call to action to settle the invoice promptly to avoid late payment penalties.
Effective billing management and credit management are also crucial aspects of collections management. By establishing clear credit terms and payment policies, businesses can avoid overdue payments and reduce the need for debt collection. Consistent and open communication with clients can also help identify any issues or concerns that may delay payments and address them proactively. Generally, it is sent within seven days of overdue payment.
Take a look at the payment reminder template below:
Second Overdue Payment Reminder Template
As the invoice reaches two weeks past due, it's essential to adopt a more serious tone in your payment reminder templates, emphasizing to the client the urgency of settling their overdue payments. For this invoice reminder, be sure to include a notice about any late payment penalties your client may potentially incur due to their continued delay.
Effective collections management involves using well-crafted payment reminder templates and timely invoice reminders to address overdue payments and minimize the impact of late payment penalties on your business.
Here's an example:
Third Overdue Payment Reminder Template
Clients with overdue payments of 30 days or more can pose a significant threat to your healthy cash flow. These are the accounts that require prompt payment follow-up, as further delays can gradually diminish your chances of actually receiving payment.
For this payment reminder template, it's crucial to convey the sense of a final notice. Inform the client of the consequences and actions you'll take if they fail to pay by the last cut-off date.
Maintaining an effective payment tracking and payment processing system can help you stay on top of these overdue payments and ensure you address them on time.

Try utilizing the following payment reminder template:
After sending several email reminders to the client and still to no avail, you may need to seek out the help of a third-party collection agency. Depending on your policy, you could do this step after the account went 30-90 days past due. As a last resort, you can always threaten legal action, which is enough motivation to settle for some clients.
When Is The Perfect Time to Send Payment Reminders?
Effective cash flow management requires a proactive approach to collections management. One critical aspect of collections management is sending payment reminders to clients to ensure prompt payments. However, timing is crucial when it comes to sending payment reminders.
Many businesses follow the Net 30 and Net 45 payment terms, while others may use Net 60. Regardless of the payment terms, it is a good practice to send a payment reminder email at least seven days before the payment due date. This gentle nudge serves as a polite reminder to clients and helps maintain positive relationships.
Unfortunately, not all clients respond to initial payment reminders. In such cases, it is necessary to send reminders at least once a week until payment is received. If the payment is not received within 60-90 days, it may be necessary to turn the account over to a collection agency or take legal action.
Using robust outstanding payment-due reminder software like Peakflo can significantly ease the collections management process.
This software lets businesses automate payment reminders across multiple channels, including email, SMS, and WhatsApp. By automating payment reminders, businesses can save time, streamline collections management, and ensure prompt payments.
If you're interested in learning the art of reaching your customers on the right payment follow-up channel, download the free eBook below.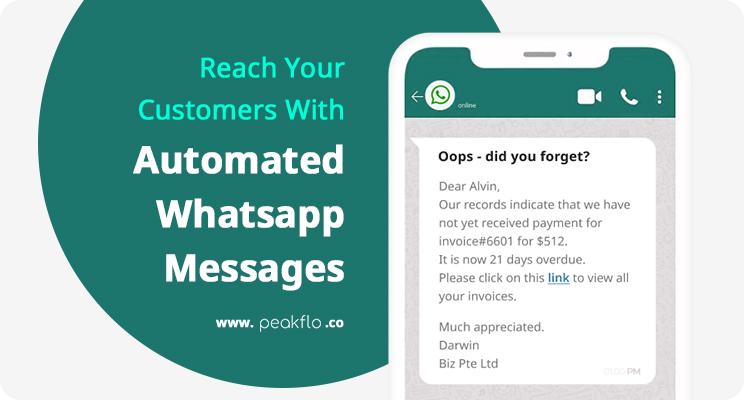 Reasons Why Your Payment Reminder Templates Are Not Working
Payment reminders are a vital aspect of collections management, but they may not always be effective in prompting clients to settle their invoices. Here are three reasons why payment reminders may not work:
Failure to Receive Payment Reminder Failed
One reason why payment reminders may not work is that they may not be received by the client. This may be due to technical issues with the email server or the client's spam filter blocking the email. It is important to confirm that the client has received the payment reminder email and ensure that the email is not marked as spam.
Changes in Client's Contact Address
Another reason why payment reminders may not work is when the client changes their email address or starts using a new one. Keeping client contact information up-to-date and verifying email addresses before sending payment reminders is essential.
Wrong Person or Department
Sending payment reminders to the wrong person or department can also render them ineffective. It is essential to ensure that payment reminders are sent to the correct person or department responsible for settling the invoice. This can be achieved by maintaining clear communication with the client and verifying their contact information.
Why Are Late Payment Reminders Important?
Nobody likes to pester anyone, let alone a client. But, as an SMB that relies on modest capital, you may not have the luxury of waiting out on the payments you deserve right now.
Every business thrives on a healthy cash flow. Take that away, and your company may find it hard even to remain afloat. Effective cash flow management is vital, which is why many SMBs opt for an automated cash flow system.
Sending out well-crafted notices or reminders is integral to managing cash flow successfully. Reminders allow you to communicate clearly with your clients and help you encourage them to pay you on time.
The Benefits of Automating Reminders
You'd want to have a good process in place that immediately sets in motion as soon as an account goes past due.
You can do this the old-fashioned way, which includes manual monitoring and countless hours of administrative functioning, or you can use a reliable payment reminder app for businesses to ease not just sending out payment reminders but all aspects of invoicing.
How Peakflo Helps
There are many reasons to automate accounts receivable – one of which is smoother reminder communication. Remember the traditional way of setting up a payment reminder? Yes, that can be slow and tedious.
By incorporating Peakflo's Payment Reminder Automation into your AR management, you'll leverage these powerful features for your invoicing process:
Set up reminder workflows based on customer segment, payment behavior, invoice amount, and more.
Send multi-channel manual or automated payment reminders to your customers based on their preferences.
Keep track of all the follow-ups, messages, questions, bounced messages, and open rates in the timeline of invoices and customers.
Peakflo's Accounts Receivable solution can seamlessly complement your ERP or accounting software and eliminate repetitive time-intensive tasks. Start benefitting from an automated cash flow system today!
Take a product tour and book a free consultation to find out how much your business can save with Peakflo.