Every organization would love to get paid early. On-time payments from customers allow businesses to improve their handle on cash flow significantly. But, let's face it, this isn't always the case.
For many firms, the biggest problem centres around uncollected sales. Businesses facing delayed payments have recently been on an upswing throughout Asia, and it's no different in Singapore. A 2021 survey revealed that 52% of Singapore-based companies are having trouble collecting payments. Yes, ARs are assets, but you may fall short of keeping things afloat without cold hard cash.
To ensure that customers pay on time, the company's finance team must employ a good AR management strategy. It's undeniable that one of the best features of a flawless system is invoice automation software.
What are Invoice Reminders?
Promptly sending out impeccable invoices contributes to getting you paid on time. But, more likely than not, there will always be those few customers who fail to meet your payment deadlines. For these select customers, you'll want to make sure that you're able to send out professional payment reminders as efficiently as possible. In fact, you don't even have to wait until payment is late to send out a friendly customer-centric notice.
How Automating Invoice Reminders Helps in AR Management
Invoice automation software helps you leverage pre-written reminder templates that you can send either impromptu or on a scheduled basis. You can send out these templates through several mediums such as email, SMS, instant messenger apps, or via physical mail.
AR management platforms such as Peakflo provide management teams with a centralized workspace where they can easily create and send reminders and notices with a click of a button. We provide a way to quickly examine the status of your invoices at a glance and simultaneously view their communications and payment history.
How to Automate Invoice Reminders
The conventional way of setting up an invoice reminder system can be slow and tedious. At times, it can even compromise your smooth cash flow. When you automate your reminders, all your outstanding accounts are automatically sent with notices on a pre-set date, using pre-written templates that you can effortlessly fill out with details.
Going automated is easy, and there are a lot of tools out there that your company can utilize. Your plain old accounting software can be reliable in itself. But, if you want to optimize account management with a laser focus on payment collection, complementing your accounting tool with robust accounts receivable automation software is the best way to go.
Invoice Reminder Templates + Examples
Whichever channel you choose to send out payment reminders, your chosen invoice automation software should have plenty of drafted templates that can help smoothen out the process.
Here at Peakflo, we've already prepared effective templates that you can easily access on our platform. Whether the account is due in a week or already a month overdue, you can trigger spontaneous reminders on various mediums and even modify your expected payment date.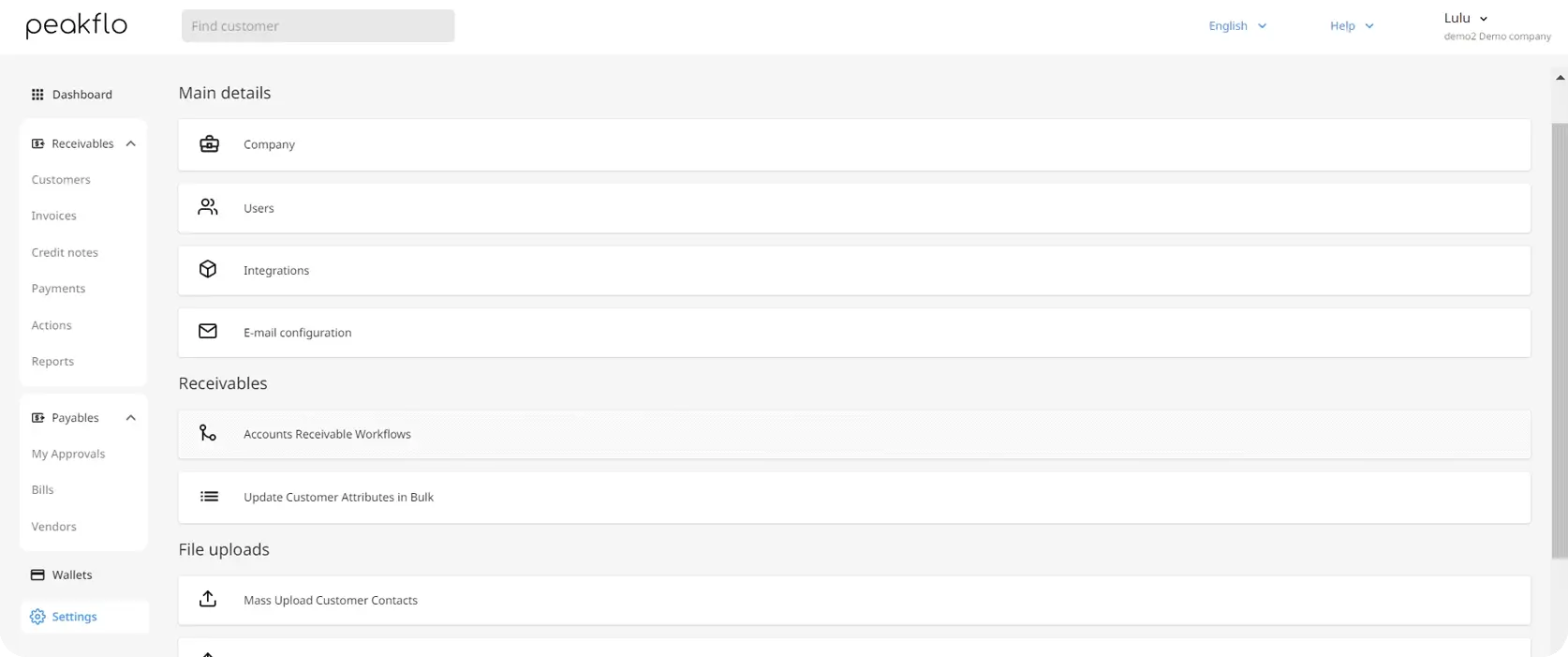 Our templates feature different tones custom-fit to your specific purpose and customer. Check out an example below.

How Accounts Receivable Automation Keep Cash Flow Going
Traditionally, AR teams have to do detailed manual reviews of sales invoices, often many times over, to ensure that each invoice speaks precisely what the transaction entails before they reach the customer. Any wrong information, such as pricing errors and incorrect customer recipients, can potentially delay payments. This typical process is often costly and time-consuming, costing hours and hours of manual work.
AR automation introduces a simpler way to manage your accounts. Fundamentally, it lets your AR management team automate these repetitive tasks that consume enormous time and resources. Since everything is digitally operated, it helps reduce costly and avoidable human errors, ensuring a smooth invoice workflow.
A Better Way to Manage Your AR
Employing accounts receivable automation software with all its features can make life easier for you and your finance team. This technology not only helps big companies but small businesses as well. By automating your invoicing, you can slash a significant number of work hours for your finance team, giving them more time to focus on strengthening your AR collection strategy and improving cash flow management.
Streamline Your A/R Processes
Having the right technology at your disposal can ease the burden when it comes to collecting what you're owed.
Peakflo offers a tool that allows you to increase the efficiency of your A/R management team. With features that enable you to raise productivity, automate invoice workflow, and make it easier for customers to pay, you can simplify all of your A/R and cash collection processes under one high-performing digital platform.