The job is complete; you've made the delivery. Your client was more than happy to thank you for your work. You're one step closer to getting paid. But before you knock on your client's door asking for payment, you must first issue a bill that tells them their due.
Providing an invoice is one of the best ways to communicate efficiently with your clients, not to mention getting you paid on time. Whether you're going for a traditional or an e-invoice, your professional-looking bill template can help you maintain a steady flow of payments that will keep cash in your pockets.
Why Be Diligent in Invoicing?
The most apparent reason for handing out an invoice to a client is, you've guessed it, to get paid on time. An invoice lets your client know not only what they owe but your expectations regarding when they should settle. It clears the transaction up with your client so that, in a best-case scenario, all you have to do is wait until the due date for payment.
Why is Professional Invoice Design Essential?
A professional invoice with GST and all accurate vital information makes it easy for your clients to understand every transaction and payment detail. Getting all facts factual and clear lets you avoid billing questions and other complications that can delay payment. As we all know, delayed payments stacking up can compromise a healthy business cash flow.
Since your invoice conveys vital information for you and your client, getting it right can be the difference between collecting on time and falling into a muddle of issues that you'd rather avoid.
Apart from providing essential details to your client, an invoice custom-tailored to your company exhibits your uniqueness and brand identity in a professional manner.
Traditional Vs. e-Invoice
In the past, companies had to perform traditional invoicing, which often involved a lot of labor-intensive work. This process requires repetitive postings, reviews, printing on paper, and endless emailing just to get invoices across. When tedious manual tasks are involved, you can almost expect human errors to follow suit. It's not rare to find invoices displaying incorrect info or ending up in the wrong client.
With the advent of modern technology comes an easier way to conduct invoicing. An electronic invoice is significantly easier to generate and deliver to your client. This uncomplicated way of invoicing is all thanks to accounts receivable automation, which streamlines the whole invoicing process for both you and your client.
With AR automation, getting an electronic invoice across is a matter of finding a PO in your favorite platform, clicking a button to generate a bill, then sending that bill over directly to your client. 
What's Included in a Professional Invoice?
An invoice lists every essential information related to the transaction. Entries include everything from your company and client's details, your provided goods or services, taxes (for an invoice with GST), and the payment term.
Here are the essential parts that make up a professional-looking invoice: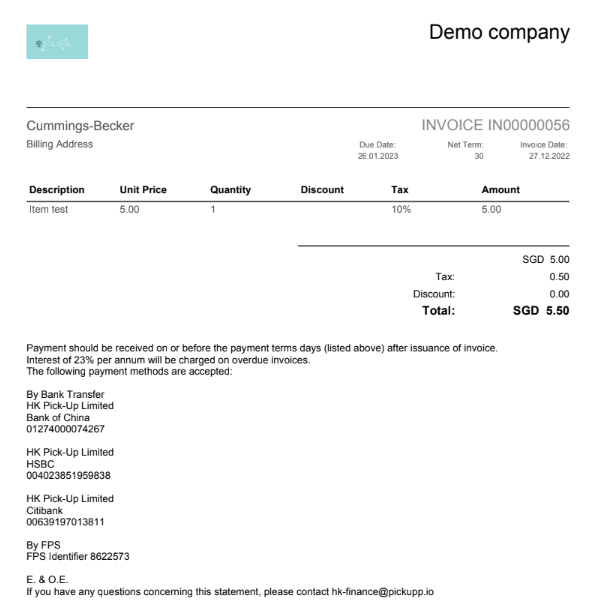 Thankfully, you won't have to worry about a cluttered design when generating an e-invoice using AR automation software. Our platform here at Peakflo allows you to leverage pre-written professional templates that you can create and dispatch with a click of a button.
Designing Professional Invoices that Get You Paid
Here are the steps to designing a clean, unique, and professional-looking invoice that prompts an early payment:
1. Outline a Clean Format
Getting a professional-looking invoice begins by designing a clean and uncluttered template. This step is when you create an outline that organizes every vital information in your invoice.
Ensure every line item flows smoothly throughout, from the header to the terms at the bottom of the document. Use consistent spacing to make the details easy to digest. You may also want to keep your templates within the ideal 8.5" x 11" paper size since some clients prefer to print a physical copy for record-keeping.
2. Reflect Your Brand's Identity
You make all kinds of efforts to make your brand stand out whenever possible. Why not go as far as your invoicing? Your invoice already has your logo. You can leverage it entirely to promote your distinct branding.
If your company uses a particular voice or tone, you can incorporate that when writing terms and descriptions. If you use distinct colors and fonts, integrate these in your invoice design. Remember, every material you put out there should mirror your brand's unique personality.
3. Make it Easy and Simple.
One of the essential features of a professional invoice is clarity and readability. If you want to get paid faster, make your template free from distracting elements that come with a poor design, like confusing itemizations and inconsistent layouts.
Line up each item in a way that will seamlessly walk your client through the details. You can use grids to separate your line items, with columns separating specific entries for each item, so your clients quickly see them at a glance.
Here's another sample from our selection of customizable pre-written templates here at Peakflo:
4. Highlight The Essential Aspects
Though every detail in your invoice is vital, some need to stand out more than others. This is the case with your payment terms, total balance, and due dates. You may have gotten your itemized list of services right, but these elements will ultimately be the ones that will provide notice for your customers to pay.
Outstanding Balance and Due Date
Typically located just below your services list, these line items tell your customers how much they should pay and when. You'd want to ensure that these two pieces of information are clear as day and error-free.
This portion outlines details such as your accepted payment methods, your late payment fee policies, and any other particulars related to the payment for your work. It may not be as essential as the two above, but you still need to find a way to make this clear-cut.
The end goal of AR automation software is to streamline functions that help you maintain a strong business cash flow. One crucial aspect that determines overall cash in-flow performance is invoicing. A robust accounts receivable software allows you to craft beautiful and clean-looking professional invoices instantly, with pre-written templates that you can tailor to your company. You won't have to worry about coming up with a seamless format that perfectly suits you.
How Can Peakflo Help?
Peakflo allows you to invoice effortlessly., saving you hours trying to figure out your perfect invoice.
With Peakflo, you can:
Create Personalized Invoices. Customize everything from top to bottom for a seamless invoicing experience. You can attach working files and notes whenever you need them.
Instantly Verify Invoices. You can validate and approve invoice drafts before they come out, all inside one coherent portal.
Predict Cash In-Flows. Peakflo offers a forecasting feature that predicts cash performance based on past results. Gain deep insights into your collection efficiency and overall cash flow health.
Peakflo connects to your favorite accounting software and is 100% free forever. Start improving your business cash flow today!