How Ninja Van saved 1000+ man-hours per month and reduced DSO by 12 days using Peakflo
"We have sent over 100,000 workflow guided reminders to our customers and now collect our accounts receivable 10-15 days (~20%) faster on average."
Ritchie Wong
Group CFO, Ninja Van
See How Much Ninja Van has Saved with Peakflo
man-hours saved per month
days reduction in invoice collection time
workflow-guided reminders sent
annual payments collected
Based in:
Singapore
Peakflo customer
since:
June 2021
Invoices per month:
10,000
Background
Ninja Van is a tech-enabled express logistics company providing supply chain solutions for businesses of all sizes across South East Asia. Launched in 2014, Ninja Van started operations in Singapore as a last-mile logistics company. Since then, it has become one of the region's fastest-growing tech logistics companies, powering businesses with innovative solutions that optimizes e-commerce opportunities. Today, Ninja Van has grown its network to cover six countries: Singapore, Malaysia, Philippines, Indonesia, Thailand and Vietnam.
Key Takeaways 🔑
🚩 Problems:
Tedious invoicing
Lack of organized follow-up and dispute resolution processes
Lack of transparency on AR performance on the management-level
Painful payment collections and reconciliation process
✅ Solutions
Invoicing streamlined thanks to the 2-way data sync with NetSuite
Faster collections and better client relationships with the activation of a personalized finance CRM
More strategic decision-making with Peakflo's comprehensive set of reports, from credit control to aging balance reports
Utilizing Peaklo's static virtual accounts to automate and speed up payment collections and reconciliation process
Problem:
Customized and time-consuming invoice issuance process
Ninja Van issues approximately 10,000 invoices/month to customers with different invoicing requirements. While the bulk of the invoices are standardized, a sizeable portion of their customers require special invoice templates that can be quite time consuming for the Ninja Van invoicing team to prepare each month.
Solution:
Direct integration with Oracle Netsuite to enable seamless custom invoice issuance process
Peakflo's 2-way sync with NetSuite has provided Ninja Van custom invoice issuance templates and smoother invoicing process. Rules-based mapping of fields in customer ledger in Netsuite with Peakflo solved for the custom invoicing requirement. This has helped the invoicing team save 100+ man-hours each month and streamline the invoice issuance process.
"Peakflo seamlessly integrated into our existing ERP and improved our finance team productivity significantly."
Ritchie Wong
Group CFO, Ninja Van
Problem: Inefficient processes of following up with their customers and resolving disputes
Ninja Van collection team chases over 5,000 invoices/month for customers of different types and sizes (some small and some very large) across SE Asia. But inefficient collection and payment reminder processes meant that they could not collect their outstanding invoices fast enough. This was not only reducing their collection efficiency but also hampering their customer experience.
Solution: Improved collection efficiency and customer relationships by sending workflow-guided payment reminders
Peakflo has created a single source of truth of all communications with the customer, like a  Finance CRM, to be used for dispute resolution and credit controls. This has allowed Ninja Van to send multiple reminders to customers once their invoices went due. They also sent invoices before the due date. Using Peakflo, they have also created a customer timeline as an immutable audit trail of 2-way communication between client and customer. Thus, Ninja Van has managed to collect unpaid invoices faster and improve productivity in the accounts receivable collection processes.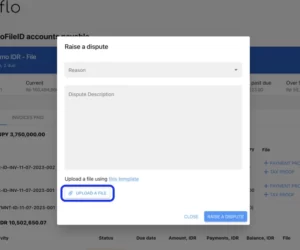 "My finance team collaborates with our merchant partners to manage follow-ups, dispute resolution, and payment tracking."
Ritchie Wong
Group CFO, Ninja Van
Problem: Lack of credit risk management and account receivable overview for the management
Apart from this, management lacked an overview of their account receivable and credit risk management process. This led to difficulties in cash flow and working capital management on a group level. Reconciling multiple bank statements for credit control checks doesn't make sense.
Solution: Provided more detailed and comprehensive reporting for better visibility and decision-making
Peakflo's collection efficiency, customer status reports, and aging balance reports have provided better guidance and transparency. The multitude of reports has given Ninja Van a detailed overview  of their account receivable and credit risk management process to improve cash flow and working capital management on a group-level.
Problem: Difficulty collecting payments from customers and lengthy reconciliation process
Ninja Van had difficulty collecting payments from different customers, each of them having their payment preferences and requirements. Also, with around 5000 monthly invoices, the reconciliation process took a long time for the Ninja Van finance team since it was done manually.
Solution: Peakflo static virtual accounts
With Peakflo's virtual accounts, Ninja Van was able to streamline the process of payment collection and collect payments from customers much faster. Now Ninja Van has full visibility over which invoices are paid in real-time. Ninja Van customers also no longer need to add payment details manually every time they want to make payments to Ninja Van. Ninja Van has also automated the lengthy and error-prone process of reconciliation which takes around 3 weeks per month to handle.
In addition, 3x jump in the payments during the month of March has encouraged the Ninja Van finance team to enable payments for an even larger audience in order to facilitate the reconciliation process and have visibility over payment status updates in real-time in both Peakflo and their customer portal.
"Peakflo has become an integral part of our overall credit risk management process. The multitude of reports also help monitor our accounts receivable transparently."
Ritchie Wong
Group CFO, Ninja Van