For most accounts payable departments, getting a purchase order (PO) approval is time-consuming.
In fact, a study showed that workers waste 60% of their time working on tasks like collecting bill details and chasing approvals. This ineffective workflow causes businesses to lose time and money better spent on other important tasks.
Thankfully, this article will provide actionable steps to help you streamline the approval procedures.
Table of Contents
Why does manual purchase order approval take so long to process?
Before we dive deeper, let's examine the purchase order approval workflow in most finance teams:
First, the company creates a purchase quote (PQ) using Google Forms. The problem is, this tool doesn't provide information regarding who the approvers are and when the PQ is approved.
Once the PQ is ready, an accountant will manually convert it into a purchase order (PO).
After that, they log into their accounting software, search for the bill, and match it with the PO manually. This process is significantly prone to errors and time-consuming.
Then, they submit the PO and chase the approvers through long email chains.
When the bill finally arrives, they have to go over the same approval loop.
How much does the manual approval process cost the organization?

If your organization still implements the manual process for approvals, there are some potential problems that may arise:
Higher operational costs. With so many repetitive and time-intensive tasks to do, finance teams can end up working longer than intended, resulting in higher labor costs.According to research, companies that do not use software can spend an average of $6.70 per invoice processed. In contrast, automation services help reduce the amount to $2.36.
Costly errors. Human errors are more likely to occur in manual approval processes, potentially leading to duplicated POs and payments.
Late payments. Since the approval process takes so long, third-party payments will get postponed. As 89% of businesses feel that late payments can slow down their growth, manual processes can lead to unhappy vendors and suppliers.
How to streamline the approvals process?

Thankfully, there is a way to manage your accounts payable and streamline the purchase order approval process.
By using accounts payable automation software, you can:
Generate any types of purchase quotes

Many automation tools these days provide a digital PQ maker for different use cases, from freelance to vendor payments.
This technology removes the need for spreadsheets and Google Forms. It also gives the PQ creator more freedom to track the PQ status.
Automatically convert the purchase quote into a purchase order

Moreover, modern software helps accountants match the purchase order with the bill through a single search. The system can also flag errors, helping them identify unmatched records and make adjustments.
Easily set custom approval workflows with the right stakeholders

Most automation tools provide a centralized workspace where finance teams can invite other departments within their organization.
For large companies, this feature enables effective collaboration between different teams. This is because they can work on the same projects, identify potential bottlenecks, and solve problems together in one place.
Bring in automation, bring up your revenue generation

At Peakflo, our software provides several automation features to ease your work, including:
PQ generation. Any employee can easily submit a purchase quote simply by entering the required information, adding the purchased items, and applying taxes accordingly.
PQ to PO auto-conversion & send to the vendor. Once approved by all stakeholders, our system will automatically convert the PQ into a PO and send it to the vendor.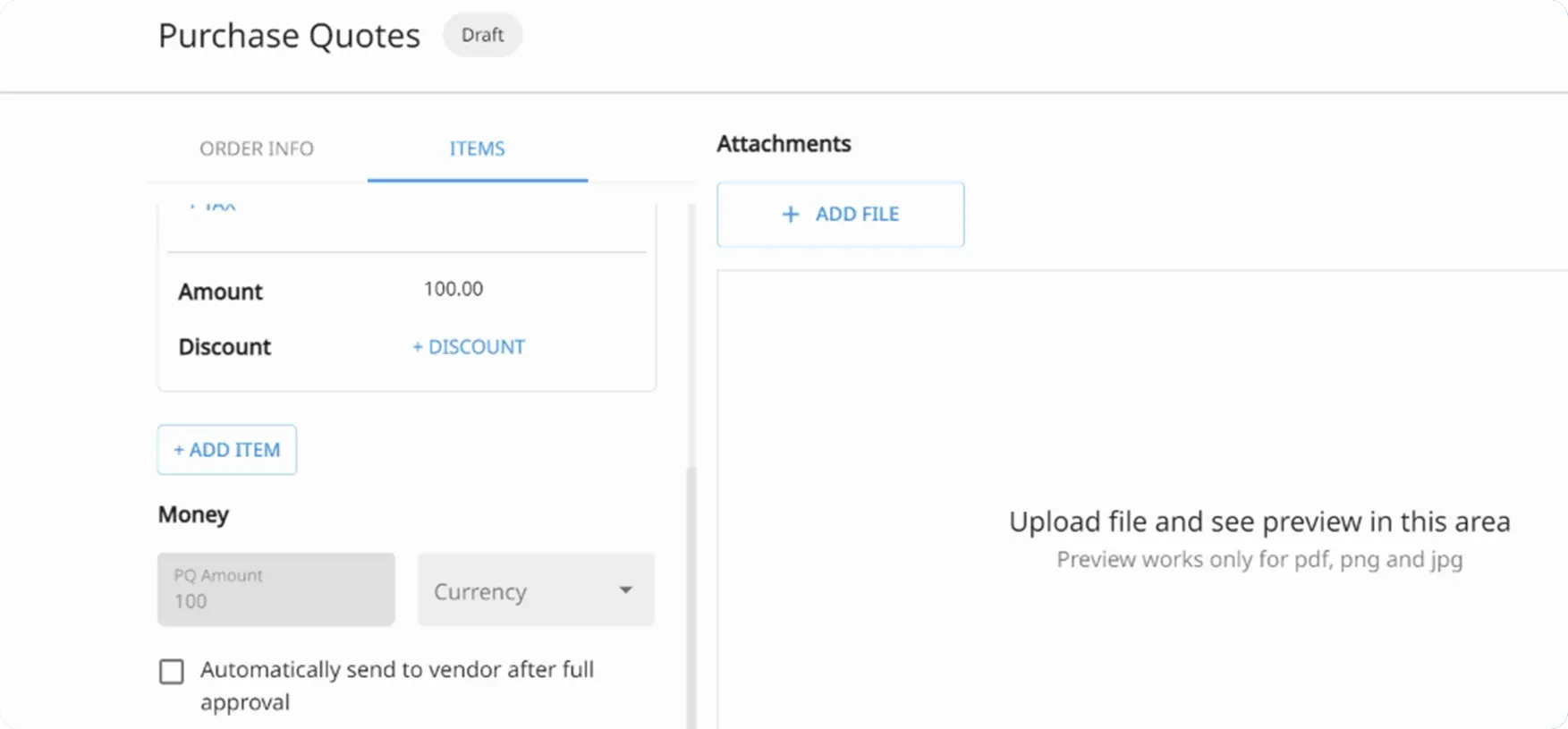 PO matching. When receiving bills from vendors, you can easily scan the documents using our Optical Character Recognition (OCR) technology. After that, the system will automatically match the bills with the purchase orders and inform you if the amount is incorrect.
Approval workflow. With Peakflo, you can personalize workflows based on the company's approval procedures. Relevant stakeholders, from business approvers to accounting and tax checkers, can monitor, track and edit purchase orders in real time.
So, are you ready to get faster approvals? If it's a yes, start your journey with Peakflo now!